Who besides me thinks we need a Golden Girls remake? I know, I know….remakes rarely do well and they NEVER do justice to the original shows, but can't we just try? Because I miss these savage savage women!
Watch this awesome two-minute video of 13 times Rose, Dorothy, Sophia, and Blanche were shady AF.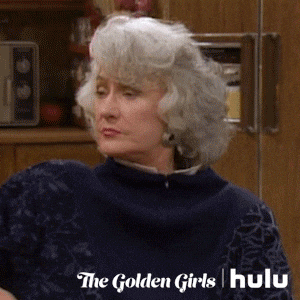 If this makes you want to binge-watch them all again, here's where you can get them (but don't buy ANYTHING until you get to the end of this post).
Live-stream them on Amazon Video. It costs $1.99 per episode or $14.99 per season….ugh….but handy if you like the Amazon Video format.
Apples iTunes. $14.99 per season
BUT…..
You will see the biggest gift will be from us when The #GoldenGirls comes to Hulu 2/13. Thank you for being a friend. pic.twitter.com/vP7kAr0Eum

— hulu (@hulu) January 7, 2017
That's it. I'm done. I know what I'll be doing this weekend. The Golden Girls and I are staying in!