Poor Sean Spicer. He's been on the front lines of every scandal that President Donald Trump's administration has created during their short stay in Washington D.C. Now with the firing of former FBI Director James Comey, it seems like even Sean has reached his breaking point.
The news broke Tuesday night, just as Spicer was walking back to his office through the White House grounds. Suddenly, he saw a swarm of reporters waiting for him to answer the burning question on everyone's minds about Comey's firing. So Sean did what any mature human adult would do.
He hid in the bushes.
That's right. And Spicer did not come out until those mean reporters promised to be nice to him:
"Just turn the lights off. Turn the lights off … We'll take care of this. … Can you just turn that light off?"
It's kind of hard to blame Sean Spicer for wanting to hide from the press after such a big story broke. After all, it appears that Spicer, his deputy Sarah Huckabee Sanders, and the rest of Trump's mouthpieces had about as much information about the firing as the press themselves did. Here's a sampling of the responses Spicer gave the reporters:
"No, I don't believe, I don't know how that sequence went — I don't know."
"Uh, I don't know. I don't know. There's some — I don't know. I don't know."
"I don't, I don't … I can look at the tick-tock. I know that he was presented with that today. I'm not sure what time."
He beat a hasty retreat as soon as he possibly could. Spicer seems to have put up the white flag after Tuesday night, because deputy press secretary Sanders appears to be running point for the rest of the week.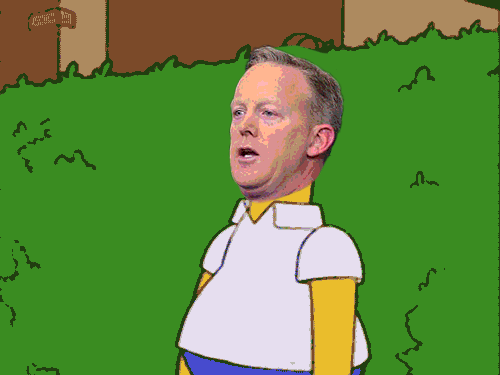 Melissa McCarthy is going to have some real fun with this one this weekend, I think.
Watch Spicer hide from the press in this video after the jump:
Featured Image: Screenshot Via YouTube Video.