Looking at pictures, one might assume he is looking at images of United States military personnel patrolling some street in a far-flung country half a world away.
But, no.
It's Portland, Ore.
And those are camouflaged federal law enforcement officers.
A month ago, shortly after protests over the hyper-militarization of America's police forces in the wake of the Minneapolis police murder of George Floyd began erupting, anonymous, unidentifiable vigilantes started showing up to intimidate and instigate violence toward peaceful protesters.
Now the Trump administration has deployed to Portland, Ore. unidentified officials from the Department of Homeland Security (HHS) and the U.S. Marshals Service to forcefully detain Black Lives Matter protesters and crush peaceful demonstrations.
Can we admit yet we are officially descending into all-out fascism?
According to Oregon Public Broadcasting (OPB):
"Federal law enforcement officers have been using unmarked vehicles to drive around downtown Portland and detain protesters since at least July 14. Personal accounts and multiple videos posted online show the officers driving up to people, detaining individuals with no explanation of why they are being arrested, and driving off."
Militarized Federal Agents from a patchwork of outside agencies have begun policing Portland (in rented minivans vans) without the explicit approval of the mayor, the state, or local municipalities. This is what that looks like in practice: pic.twitter.com/losap4SsgI

— The Sparrow Project (@sparrowmedia) July 15, 2020
Oregon Gov. Kate Brown tweeted:
This political theater from President Trump has nothing to do with public safety. The President is failing to lead this nation. Now he is deploying federal officers to patrol the streets of Portland in a blatant abuse of power by the federal government. https://t.co/PdlZkmW0mQ

— Governor Kate Brown (@OregonGovBrown) July 16, 2020
Oregon Sen. Jeff Merkley tweeted:
Authoritarian governments, not democratic republics, send unmarked authorities after protesters. These Trump/Barr tactics designed to eliminate any accountability are absolutely unacceptable in America, and must end. pic.twitter.com/PE4YfZ9Vqd

— Senator Jeff Merkley (@SenJeffMerkley) July 16, 2020
Acting Department of Homeland Security Secretary Chad Wolf has refused to "remove all federal officers from our streets," per Gov. Brown's demand, claiming Portland "has been under siege for 47 straight days by a violent mob."
Brown responded:
"He is on a mission to provoke confrontation for political purposes. He is putting both Oregonians and local law enforcement officers in harm's way. This, coming from the same President who used tear gas to clear out peaceful protesters in Washington, D.C. to engineer a photo opportunity."
Federal use Tear gas and impact munitions on protestors, one impact round his me in the ankle. I'm fine pic.twitter.com/AnrSRzkBT1

— Sergio Olmos (@MrOlmos) July 17, 2020
Another angle: federal officers unload impact munitions and tear gas at protestors. One person in a walker walks calmly away pic.twitter.com/5zL0t69IFs

— Sergio Olmos (@MrOlmos) July 17, 2020
Last weekend, a federal agent fractured a 26-year-old peaceful demonstrator's skull after he shot the protester in the head, leading to Sen. Merkley and his Senate counterpart Ron Wyden to demand a full investigation.
Protester Mark Pettibone alleged camouflaged officers he could not identify as police or right-wing agitators detained him, explaining:
"I just happened to be wearing black on a sidewalk in downtown Portland at the time. And that apparently is grounds for detaining me."
Quantitative ecologist and volunteer medic, Juniper Simonis ("they"/"them"), reported to BuzzFeed News federal officers forced them into custody, separated them from their service dog for using chalk on the sidewalk in front of a federal building, and sprayed OC gas, a form of pepper spray, at close range.
Simonis explained:
"They jumped me and assaulted me without any legal or verbal communication to me about being under arrest, or telling me to stop. They're snatching people and asking questions later."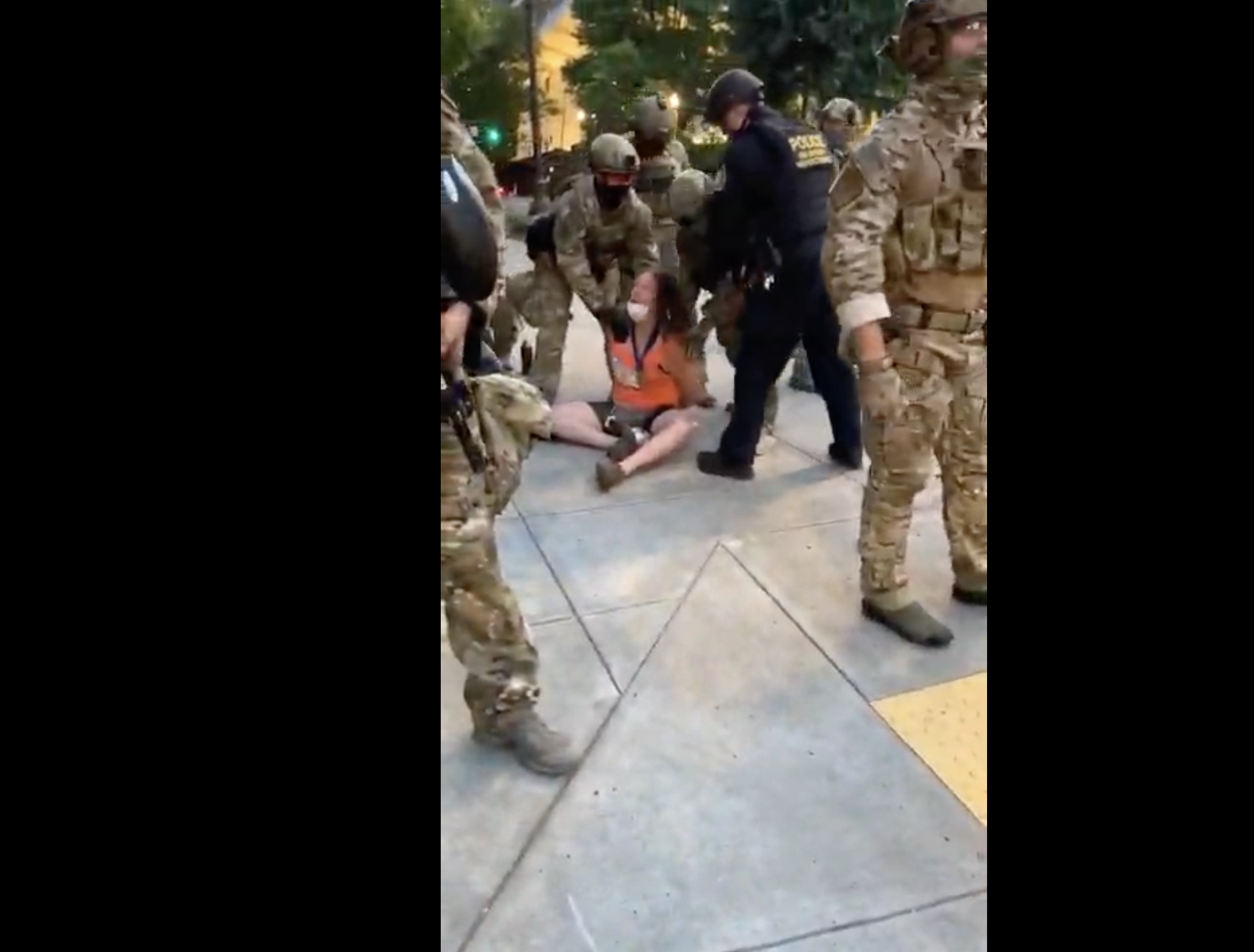 Line has moved back a little bit. More shots fired. More calls for medics. The air up here is extremely spicy. pic.twitter.com/zxk6V86cOd

— Tuck Woodstock (@tuckwoodstock) July 17, 2020
Another demonstrator told the New York Times:
"One of the officers said, 'It's OK, it's OK,' and just grabbed me and threw me into the van. Another officer pulled my beanie down, so I couldn't see. I was terrified. It seemed like it was out of a horror/sci-fi, like a Philip K Dick novel. It was like being preyed upon."
Another told (OPB):
"I see guys in camo. Four or five of them pop out, open the door and it was just like, 'Oh shit. I don't know who you are or what you want with us.'"
Oregon Sen. Ron Wyden tweeted:
A peaceful protester in Portland was shot in the head by one of Donald Trump's secret police. Now Trump and Chad Wolf are weaponizing the DHS as their own occupying army to provoke violence on the streets of my hometown because they think it plays well with right-wing media.

— Ron Wyden (@RonWyden) July 16, 2020
As the New York Times reported:
"The tactical agents deployed by Homeland Security include officials from a group known as BORTAC, the Border Patrol's equivalent of a SWAT team, a highly trained group that normally is tasked with investigating drug smuggling organizations, as opposed to protesters in cities."
BORTAC is the same tactical unit that, earlier this year, was tasked with supporting Immigration and Customs Enforcement (ICE) agents in routine immigration arrests.
Whoa.
Officers trained in SWAT team tactics, sent to help with run-of-the-mill immigration arrests in major cities far from the border.
Trump is using military-style tactics because he has a political beef with cities whose policies he doesn't like. https://t.co/QEwG0DyNab

— Cecilia Muñoz (@cecmunoz) February 14, 2020
Sen. Merkley announced on Saturday his intent to introduce an amendment prohibiting the Trump administration from deploying federal law enforcement to American streets, tweeting:
BREAKING: When I get back to DC next week, I will be introducing an amendment to the defense bill with @RonWyden to stop the Trump administration from sending its paramilitary squads onto America's streets. We won't let these authoritarian tactics stand.

— Senator Jeff Merkley (@SenJeffMerkley) July 18, 2020
On Friday, the American Civil Liberties Union (ACLU) of Oregon sued the DHS and the U.S. Marshals Service on behalf of recently assaulted legal observers and journalists.
Interim legal director, Kelly Simon, stated in a press release:
"This is a fight to save our democracy. Under the direction of the Trump administration, federal agents are terrorizing the community, risking lives, and brutally attacking protesters demonstrating against police brutality. This is police escalation on top of police escalation."
Oregon Attorney General Ellen Rosenblum has followed suit against DHS, the US Marshals Service, CBP, and the Federal Protection Service for illegally detaining citizens without probable cause.
The question some are asking is, is this a trial run for November when Trump attempts to declare martial law?
We're already seeing means by which the Republican party is making it increasingly harder to vote through naked voter suppression tactics and attacks on the postal service.
Could a police state be the final nail in our republic's coffin?
Image credit: www.thelastamericanvagabond.com