In 2016, Senate Judiciary Committee Chairman Lindsey Graham said about former President Barack Obama's Supreme Court nominee Merrick Garland:
"I want you to use my words against me. If there's a Republican president in 2016 and a vacancy occurs in the last year of the first term, you can say Lindsey Graham said let's let the next president, whoever it might be, make that nomination." pic.twitter.com/quD1K5j9pz

— Vanita Gupta (@vanitaguptaCR) September 19, 2020
He said it again two years later:
Sen. Lindsey Graham justifies his treatment of Merrick Garland: "If an opening comes in the last year of President Trump's term, and the primary process has started, we'll wait to the next election" pic.twitter.com/E8N7a8IlIG

— Yahoo News (@YahooNews) October 3, 2018
Well, last week Donald Trump nominated his third Supreme Court justice in just four years, Notre Dame law professor and federal appellate judge Amy Coney Barrett, to replace Ruth Bader Ginsberg.
Predictably, Sen. Graham, Majority Leader Mitch McConnell–who pretended Merrick Garland's nomination never happened–and the Republican party, are hoping we forgot about their dereliction.
We didn't.
Who is this nominee who, if confirmed, will hand Trump a third of the nation's highest court?
Some media outlets are focusing a great deal on her membership in the Christian cult People of Praise, which opposes abortion and instructs women (known as "handmaids") to submit to their husbands (aka "heads").
But it is Barrett's judicial record that deserves the most scrutiny.
When nominated to the federal bench in 2017, Democrats questioned during confirmation hearings Barrett's claim that Catholicism should influence a judge's verdicts.
This means the landmark 1973 Roe vs. Wade pro-choice decision is on the chopping block.
In 2006, Barrett was one of hundreds of signatories to a full-page newspaper advertisement the extreme anti-choice group "St. Joseph County Right to Life" sponsored, calling Roe v. Wade "barbaric."
Planned Parenthood Action Fund President Alexis McGill Johnson said in a statement:
 "Nominating Amy Coney Barrett is a particular insult to the legacy of Justice Ginsburg. Barrett's history of hostility toward reproductive health and rights, expanded health care access, and more demonstrate that she will put Justice Ginsburg's long record of ensuring that everyone receives equal justice under the law at risk."
The Human Rights Campaign (HRC) has characterized Barrett as "absolute threat to LGBTQ rights."
She is also a serious threat to the Affordable Care Act (ACA), aka "Obamacare," even criticized Chief Justice John Roberts for voting to uphold President Obama's signature legislation in 2013.
Sabrina Corlette, co-director of Georgetown University's Center on Health Insurance Reforms, warned if Coney Barrett is confirmed, "It dramatically increases the chances that the ACA will be struck down."
She added:
"That said, because there are so many conservative legal scholars that have said this is a ridiculous, meritless lawsuit, one can only hope and pray she's in that camp."
One of the ACA's primary provisions is the protection it provides Americans against losing their health insurance due to pre-existing conditions.
Before the ACA, for-profit insurance carriers had the legal authority to drop customers' coverage for previous medical conditions deemed potentially too expensive.
Seven million COVID-19 cases in the United States are going to foment more pre-existing conditions.
A lot more.
Therefore, overturning the ACA, returning us to the days when insurance companies were able to revoke people's insurance, in the middle of a devastating pandemic, will be catastrophic.
Another danger Amy Coney Barrett could bring to the highest court pertains to labor rights.
In the case U.S. Equal Employ­ment Oppor­tu­ni­ty Com­mis­sion v. Auto Zone brought before her as a judge, Barrett ruled in favor of an Auto­ Zone store that racially seg­re­gat­ed its stores.
Last year, she ruled against a Black Illi­nois Depart­ment of Trans­porta­tion worker alleging a verbal harassment and a racially moti­vat­ed fir­ing.
Earlier this year, Bar­rett ruled Grub­Hub dri­vers were not permitted file class-action law­suits against their employ­ers for refusing to classify them as employees.
Something else we must consider about Barrett: if she is confirmed, the Supreme Court of the United States will have on it three justices who aggressively worked to overturn the 2000 presidential election between former Vice President Al Gore and George W. Bush.
The reason Donald Trump–and the Republican party–needs Barrett on the court is more than for partisan political purposes.
Every president wants his nominee confirmed.
But Trump has already admitted he feels the SCOTUS is going to determine the presidential election's outcome, and wants justices partial to him.
Trump openly says that he wants to approve RBG's replacement before the election so SCOTUS will have his back when he challenges mail voting

"This scam that the Democrats are pulling … will be before SCOTUS, and I think having a 4-4 situation is not a good situation." pic.twitter.com/8d08UjzrZK

— Aaron Rupar (@atrupar) September 23, 2020
"We need 9 justices. You need that. With the unsolicited millions of ballots that they're sending … you're gonna need 9 justices." — Trump suggests he's counting on SCOTUS to have his back when he makes claims of election fraud following November's election pic.twitter.com/Ju8ShMe8MN

— Aaron Rupar (@atrupar) September 22, 2020
Yet, with Donald Trump and myriad GOP senators–including Senate Judiciary Committee members–testing positive for COVID-19 after attending Barrett's Rose Garden nomination ceremony, Republicans are reportedly in a "panic" over Amy Coney Barrett's confirmation vote.
The Washington Post's Robert Costa reports Republicans are pleading with Mitch McConnell to "take the Senate out of session" this week.
A Senate GOP aide, on background, tells the Post that some Rs are now discussing asking Leader McConnell to "take the Senate out of session next week" before the ACB hearings start in mid-October.

"If some in the Republican caucus get sick, we are screwed," the aide says.

— Robert Costa (@costareports) October 2, 2020
Although Amy Coney Barrett reportedly tested negative for the virus, her future as Justice Ginsberg's replacement is currently unknown.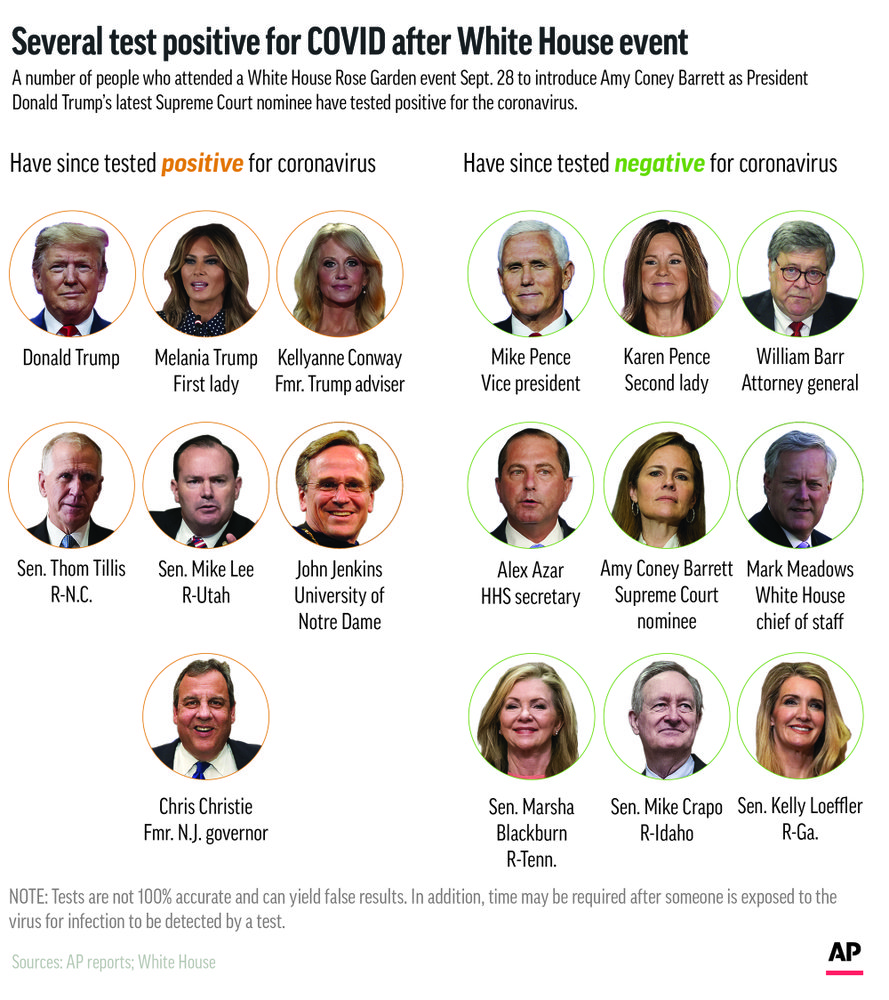 This is the time, therefore, to hold Mitch McConnell to his promise from four years ago.
If Republicans couldn't imagine confirming a SCOTUS nominee during an election year (despite it being required in the Constitution), Democrats shouldn't either.
McConnell wants a consent agreement to temporarily adjourn the Senate because keeping it open will allow Democrats to follow the conventional legislative process while Republican senators are either campaigning for reelection or under COVID quarantine, allowing Republicans to halt progress on a pandemic relief package for the next couple of weeks.
As David Sirota wrote in The Daily Poster:
"If Democrats are able to vote down McConnell's adjournment resolution, they could use their leverage to demand an adjournment resolution that defers the Supreme Court confirmation hearings and moves forward a pandemic relief package. At the very least, they could force Republican senators to leave the campaign trail and stay in Washington to cast procedural votes—which would only help Democratic senate candidates in their races…If Democrats gather enough of their caucus to the senate floor, they may be able to vote down an adjournment resolution on a roll call vote."
Fordham Law professor Zephyr Teachout, 2016 congressional candidate and 2018 candidate for New York Attorney General, tweeted:
Every. Single. Democratic. Senator.

Needs to be ready to vote to deny Mitch McConnell adjournment tomorrow, unless that adjournment takes Barrett off the table.

Make McConnell produce 48 Senators. Don't take his word he has the votes.

Protect America.@SenSchumer

— Zephyr Teachout (@ZephyrTeachout) October 4, 2020
Although far from certain, Democrats must use every legal procedural tactic to deny Amy Coney Barrett a seat on the Supreme Court before the election.
Lindsey Graham urged we use his words against him.
So let's do it.
Image credit: en.wikipedia.org