Three weeks ago the United States of America experienced something it never should have.
Although the attempted Capitol coup d'etat on January 6 did not elicit the outcome Donald Trump and his ardent supporters intended–namely overturning the democratic election that certified President Joe Biden's win–it successfully demonstrated how fragile our republic is and how close we came to losing it.
While the F.B.I. attempts to sweep up all the perpetrators, over 135 of whom have been captured, new information is coming out every day to suggest the Capitol siege was an inside job.
It's not like it was a surprise.
Trump loyalists all over the country had been planning insurrections for months, acting on Trump's insistence either he win or the election is rigged.
Police agencies all over the country were preparing for unrest for months.
There was even some in D.C. in December.
Two days before the Jan. 6 melee, The Hill ran the headline "DC braces for pro-Trump protests amid Electoral College challenge."
Back in June, the Transition Integrity Project (TIP) helped organize a bipartisan group of Democratic and Republican officials to simulate the day after a possibly contested election, for which every scenario resulted in "street-level violence."
We now know in the week leading up to the insurrection that killed several people, including police officers, top Trump campaign fundraiser Caroline Wren contacted "constitutional conservative" Cindy Chafian via text message about managing operations, logistics, budgeting, funding, and messaging for the Trump rally that culminated in violence.
Caroline Wren was deputy to Donald Trump Jr.'s girlfriend, Kimberly Guilfoyle, at presidential fundraising committee Trump Victory.
As ProPublica reports:
"On Dec. 29, after receiving the budget, Wren instructed Chafian, via text, to hold off on printing event-related slogans 'until we decide what the messaging is and we have no clue on timing because it all depends on the votes that day so we won't know timing for a few more days.' The 'timing' appears to be a reference to Congress' Jan. 6 vote to certify the election results."
That brings us to Jan. 5, the night before the "event."
Trump family members, administration officials, campaign advisers, "January 6" organizers, and at least one United States Senator met at the Washington, D.C. Trump International Hotel.
According to attendee Republican Charles W. Herbster, then Trump administration National Chairman of the Agriculture and Rural Advisory Committee, guests included the president's sons, Donald Trump Jr. and Eric; former and disgraced National Security Advisor Michael Flynn; director of Trade and Manufacturing Policy and National Defense Production Act Policy Coordinator, Peter Navarro; 2016 Trump campaign manager Corey Lewandowski; 2016 Trump deputy campaign manager David Bossie; Republican Attorneys General Association executive director Adam Piper; and newly elected Alabama Sen. Tommy Tuberville.
Also in attendance, according to political strategist Cheri Jacobus, were Txtwire CEO Daniel Beck, Rudy Giuliani, Kimberly Guilfoyle, and "MyPillow" CEO and Trump donor Michael Lindell.
Beck tweeted:
Sen. Tuberville later denied being there, but this Instagram picture proves otherwise: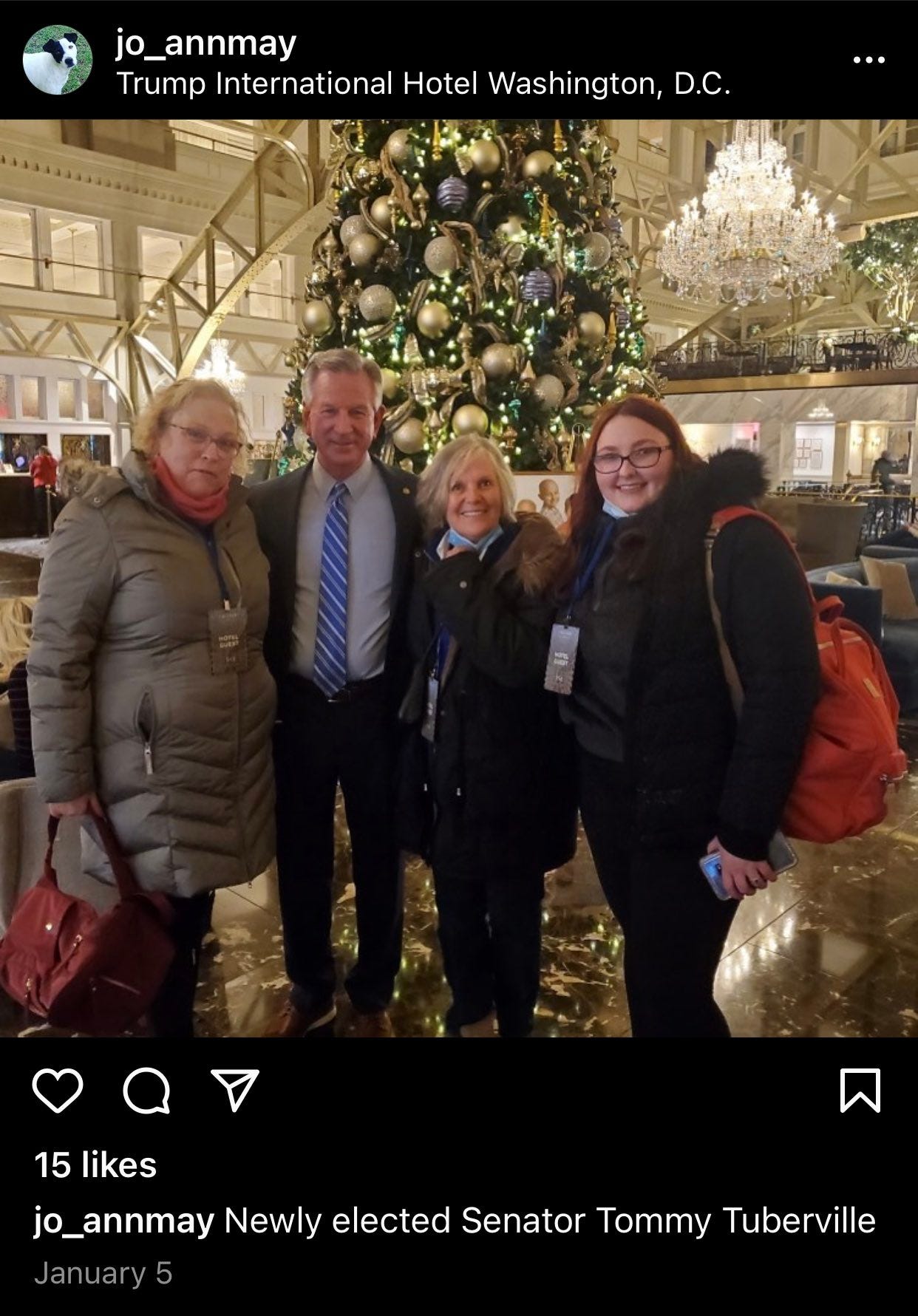 Herbster posted the following on Facebook that night:
The Omaha World Herald explained Herbster's presence at the gathering was for the purpose of "discuss[ing] how to pressure more members of Congress to object to the Electoral College results that made Joe Biden the winner."
As Newsweek columnist Seth Abramson reports:
"That Herbster would have access to Trump's inner circle is clear. But less clear is why the Trumps had invited, to a private residence outside the White House—and on the eve of an insurrection—(1) Michael Flynn, a man who that very day had organized a D.C. rally to protest the 2020 election, and would the next day conjoin his Jericho March with the Stop the Steal/March to Save America that Trump was to speak at; (2) Peter Navarro, a man who would later say on live television that he believed Trump had the unilateral authority to postpone Biden's inauguration; (3) Tommy Tuberville, the U.S. senator who in a matter of hours Trump's personal lawyer Rudy Giuliani would be calling by telephone to demand that he fraudulently contest ten states' Biden electors (far more than the five Giuliani had publicly declared contestable); (4) Adam Piper, who in a matter of days would resign from the Republican Attorneys General Association when it was found that he had helped orchestrate robocalls advertising the Stop the Steal/March to Save America event; and (5) Trump's former campaign manager and deputy campaign manager—Corey Lewandowski and David Bossie, respectively—two men known for their bareknuckle politics and (in Lewandowski's case) an alleged penchant for violence (see here, here, and here). Meanwhile, the presence of Trump's personal attorney at the meeting all but ensures that Trump himself was aware of the event."
He adds:
"Not only does this meeting appear to confirm that Trump's team helped orchestrate the events of January 6, but that it participated in the calibration of those events to exert maximum 'pressure' on members of Congress in the midst of them executing a grave constitutional duty. Moreover, it participated in that calibration in the presence of a member of the United States Senate, who was therefore—we can now conclude, from the reporting of the Omaha World Herald—working in private with the president's team to advise Trump on how to generate that maximum pressure on his Senate peers."
Another apparent conspirator is far right-wing radio show host Alex Jones.
The Hill reports he and Publix Super Market chain heiress Julie Jenkins Fancelli worked together to donate $300,000.
Jones himself planned on donating $50,000 in seed money for a "top speaking slot of his choice."
Far-right conspiracy theorist Ali Alexander worked with Caroline Wren to organize the uprising, tweeting invitations to millions of Trump supporters.
But there's more.
Much more.
A Jan. 4 memo from former acting Defense Secretary Christopher Miller lists very restrictive requirements for D.C. National Guard should they obtain "personal authorization" to be deployed to the scene, which they eventually were much too late.
The day Capitol police were aware of a "strong potential" for violence against Congress, Miller released the following:
Here's the Jan. 4 memo from former acting Defense Secretary requiring "personal authorization" for DC National Guard to employ riot control agents & other tactics at Jan. 6 "March for Trump." This same day Capitol police knew of a "strong potential" for violence against Congress. pic.twitter.com/imPfrBC6SF

— Luke Broadwater ☀️ (@lukebroadwater) January 28, 2021
The question is: now that we know there was a concerted effort to interrupt the joint session of Congress from performing its constitutional responsibility, was the January 6 coup attempt merely a dress rehearsal for future chaos?
After all, this fall saw domestic terrorists plot to kidnap Michigan Gov. Gretchen Whitmer and put her on trial for treason.
Hate crimes are at their highest in over a decade.
A Dept. of Homeland Security (DHS) reports white supremacist violent extremists are "exceptionally lethal" now, especially since so many are infiltrating police ranks.
Plus, the latest scuttlebutt from far-right conspiracy group "QAnon" is that Donald Trump is going to be sworn in as president again on March 4.
Image credit: Progressive-Charlestown.com