President Donald Trump has reached 100 days in office, and Stephen Colbert is not happy about it. He had a long monologue just for Mr. Trump.
Here is just some of the brilliance from this epic rant:
"Mr. Trump, your presidency? I love your presidency. I call it 'Disgrace the Nation. You're not the POTUS, you're the BLOTUS. You're the glutton with the button. You're a regular Gorge Washington. You're the presi–dunce, but you're turning into a real (expletive)-tator."
"… Sir, you attract more skinheads than free Rogaine. You have more people marching against you than cancer. You talk like a sign language gorilla who got hit in the head."
He then made a reference to Trump's mouth being Russian President Vladimir Putin's "c*ck holster."
This joke has sparked the hashtag #FireColbert with a lot of commentary on both sides of the issue. Many people are calling for Colbert to be fired and are boycotting CBS, but the #FireColbert movement also gained some momentum when the right-wing website, Gateway Pundit, wrote about Colbert's monologue.
Here is some of his rant against Colbert:
"Colbert's actions demand a response and CBS, as a network, is complicit as they allowed for this to happen. The audience had no problem laughing along, either. It goes to show that if it comes out of the mouth of someone 'on their team' it is not a problem, but if the right says it there will be boycotts, rallies, and riots."
Here are just some of the Twitter reactions:
#FireColbert Anti-American. Homophobic. Bigot.

— COVFEFE of Justice (@Ugogrl111) May 2, 2017
https://twitter.com/cmanning1976/status/859741485331341313
Vulgar homophobic attacks on anyone should never be acceptable in our society….sponsors ? We are watching #FireColbert

— Denny Forrest (@Sweaternite) May 3, 2017
There are some people who support Colbert:
https://twitter.com/AlexandraGail45/status/859607542162497537
https://twitter.com/IssyandJosh/status/859721324092149761
#FireColbert? More like #OnFireColbert. ???

— Ann Sanchez (@annsanchez2x) May 3, 2017
And here is Stephen Colbert reading all of the #FireColbert tweets: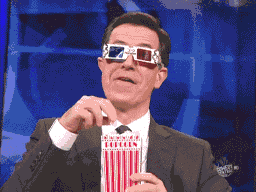 Watch his monologue here:
Featured image via YouTube screenshot.